If you follow me on twitter (I say me, really I mean the Ninja Swap account as I hardly use my personal account anymore) you'll have seen that it's been the Autumn Ninja Book Swap. I signed up for two parcels and now both of mine have arrived and I was absolutely spoiled rotten!
My first parcel was from lovely Tracy of
Postcard Reviews
and contained the following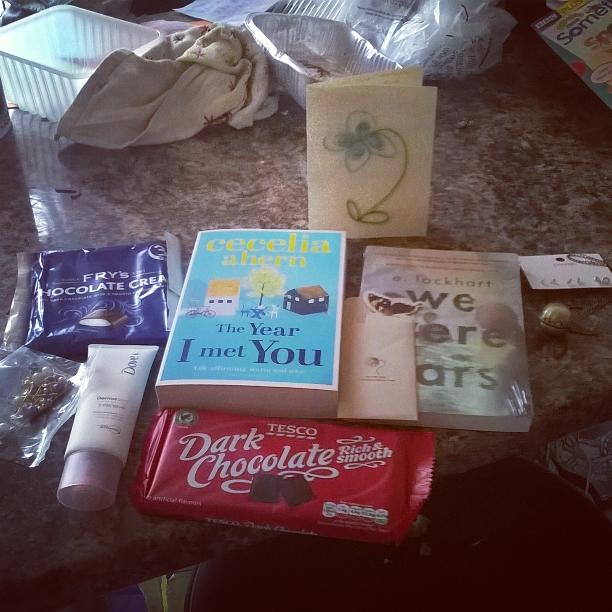 A gorgeous handmade card (quilled. I used to love quilling when I was younger!! Really exciting to receive!)
We Were Liars by E. Lockhart from my wishlist. I've been excited to read this book since everyone was talking about it on twitter. I'll be getting to it soon!
A gorgeous little butterfly bookmark that I immediately started using!
The Year I Met You by Cecilia Ahern which wasn't on my wishlist but which Tracy loves and wanted me to read. I have read a couple of Cecilia Ahern's books before and enjoyed them so I'm excited for this and love that she used the swap to share something she loves!
Fry's Chocolate Creams which I haven't had for years (mostly because they're among the few chocolates my sister can still eat so she steals them :-p) and which are gorgeous
Some lovely hand cream
A kit to make my own earrings because I said I like crafting. This is just really thoughtful and I can't wait to make them.
a set of three pairs of sparkly studs
And finally a SNITCH NECKLACE THAT'S ALSO A CLOCK!! This is immense and amazing and so obviously immense and amazing that I actually got one in each of my parcels, what are the chances??!
Thank you so much Tracy for the thought and care you obviously put into this gorgeous parcel.
My second parcel turned up on a day when I just wasn't expecting post at all and was from Kate of
Books with Bunny
. As well as the aforementioned Snitch necklace of awesomeness it contained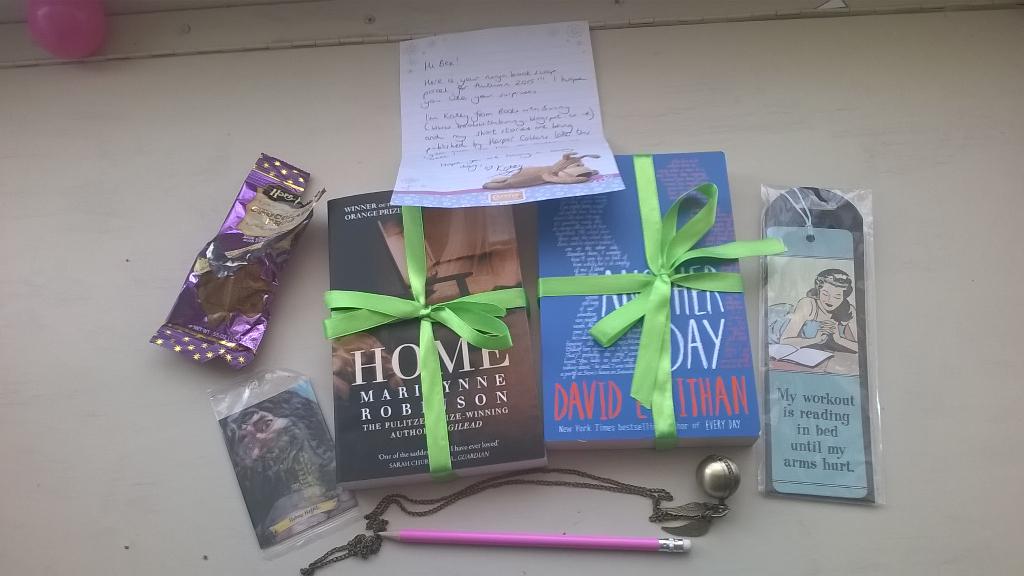 A chocolate frog contained a Hagrid card, which lasted all of 5 seconds once I'd opened the parcel
A lovely letter introducing herself
Home by Marilynne Robinson. I've still not read any Marilynne Robinson but I'm hoping this will give me the push to finally start Gilead which has been on my shelves for yeeeeears
Another Day by David Levithan, which I will admit to squealing a bit over! I really loved Every Day earlier this year and I cannot wait to read this companion novel!
An awesome bookmark which says 'my workout is reading in bed until my arms hurt'. This is the truest and I love it.
A pencil with the name of Kate's series of books on it!
I loved this parcel! Stuff tied up with ribbon is just the best and it was so me - a little parcel of unexpected joy :-)
If you've posted about your Ninja Swap parcel you can link up your posts and check out everyone else's
here
.
Also in case you haven't seen, Nonfiction November is back again this year, as is my Nonfiction Book Swap. Sign up is open until November 8th and you can get the details for the swap
here
and the Nonfiction November event
here
.
As always you can follow the swap on twitter (@NinjaBookSwap) or email ninjabookswap@gmail.com to get a reminder when sign up opens for the Spring swap!